If you love watching home renovation content, whether it's YouTube, TikTok, or HGTV, you might start the bathroom remodel process thinking that it will be nothing but fun. In those videos and TV shows, inspiration strikes the renovator almost instantly, materials are easily sourced, and none of their favorite décors is out of stock or back ordered. Unfortunately, working on your own bathroom remodel is rarely that effortless.  
For many people, the hardest part is figuring out the style of their redesign. If you know it's time to remodel your bathroom but you can't find the right design inspiration, take a look at these four global bathroom design trends to get the creative juices flowing!  
Global Design Trend #1: Art Deco
One of the first truly international styles, Art Deco made its debut in the 1920s. This style has made its mark around the globe, from New York to Paris to Mumbai. Today, Art Deco is having a major resurgence. In fact, much of India's trending interior design is inspired by a modern interpretation of Art Deco. You can also see this 1920s style in many famous skyscrapers like the Empire State Building in New York City and the Carbide & Carbon Building in Chicago.   
Bright colors, shiny materials, and repeating patterns are key features of this design. Traditional Art Deco bathrooms tend to be black and white, black and pink, or black and green. Gold hardware, vintage touches like a clawfoot tub, and geometric vanity mirrors complete the Art Deco look.  
However, if you would like a bathroom design that more easily blends with the décor of your home, or you are concerned that an overly stylized bathroom could hurt your home's resale value, there are simpler ways to incorporate Art Deco into your next bathroom upgrade. Consider adding nods to the style by creating a feature wall with wallpaper, choosing gold hardware in the shower, sink, and lighting, and sticking to a black and white color scheme.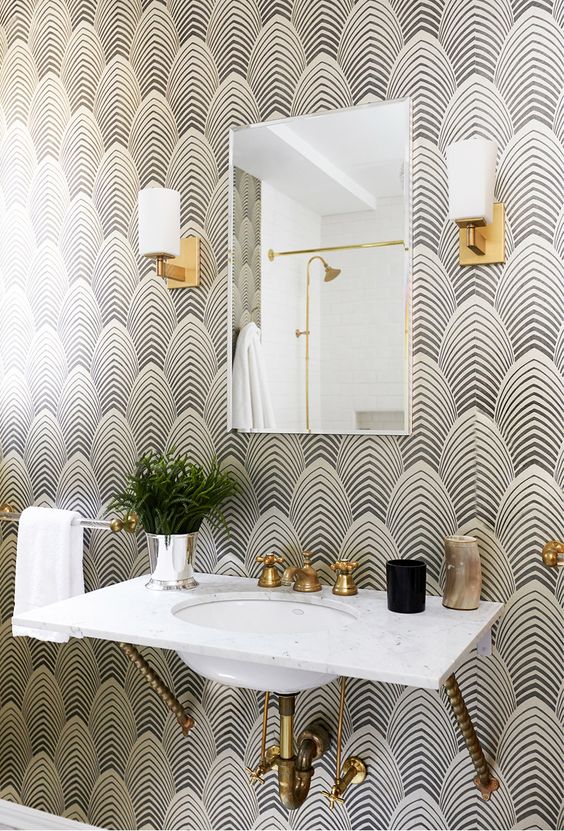 Global Design Trend #2: Wabi-Sabi
This is a Japanese design aesthetic that celebrates nature, imperfections, and simplicity. Developed from Zen Buddhist philosophy, it is built on the idea that nothing is ever permanent, perfect, or complete. Beauty can be found in the relationship between time (wabi) and decay (sabi). 
This interior design style celebrates imperfections. Natural features like raw wood, light wood grain, and stone are rarely exactly the same, and what some would categorize as a flaw, like a knot in the wood or difference in the shades of the stone, are exactly what Wabi-Sabi celebrates. This design also uses a neutral color palette, relying on plants to liven up the space. Textiles with natural wrinkles, like linen, or materials that have been manipulated in an interesting way, like macrame, are the few decorations you might see in a Wabi-Sabi space. This style is meant to find beauty in unique natural materials and bring the peace of the outdoors into a simple yet elevated living space. 
Wabi-Sabi can be embraced without breaking the bank on hand-made, one-of-a-kind luxury goods. Add elements of this global bathroom design to your space through a neutral color palette, a spacious vanity to keep clutter to a minimum, and stone flooring instead of traditional bathroom tile.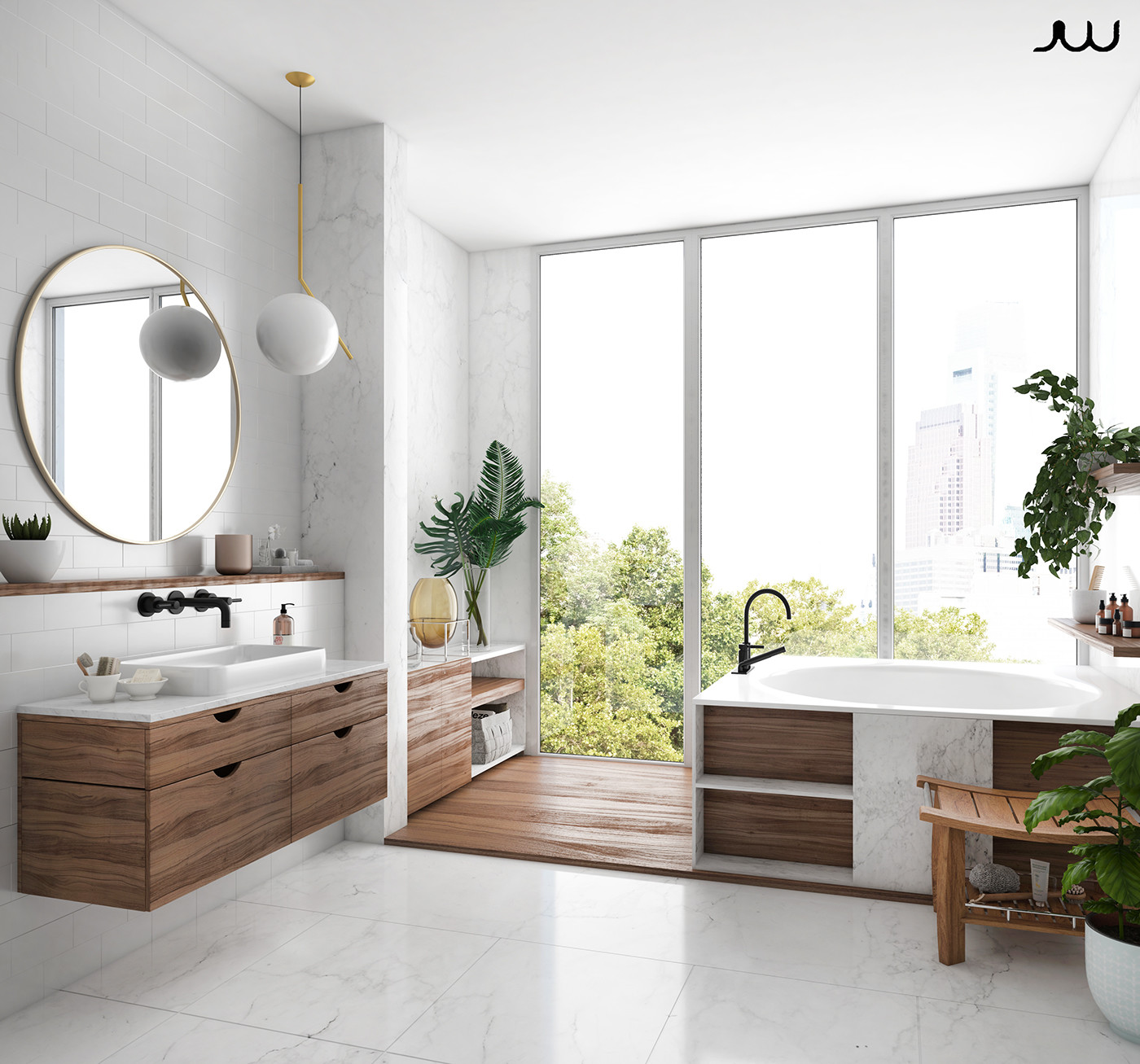 Global Design Trend #3: Southwestern
This design is a glorious combination of the many different cultures throughout the American Southwest. In a Southwestern design you may see traditional Mexican tilework and pottery, indigenous tribal designs (especially Navajo textiles), and nods to the "wild west" through leather, hide rugs, and fur elements.  
There are two ways people like to interpret this design: rustic or modern. In a rustic Southwestern design, you will see bright tiles, dark wood grain, and patterned rugs. The flooring is usually terra cotta tile; rounded features, textured walls, and earthy tones are also common, reminiscent of adobe mission architecture. This blog by The Wow Style has many examples of rustic Southwest bathrooms.  
In a modern Southwestern design, more simplicity is embraced. Instead of incorporating all the elements used in a rustic design, modern Southwestern design will choose only a couple. Lighter wood grain is chosen in place of dark wood features. Instead of opting for terra-cotta flooring, you may choose some terra cotta pottery in your decor. Mexican tiles may be used as art on the walls with neutral-toned tiles taking their place on the countertops. One or two patterned rugs may be included in the space, and some architectural details or paint colors may tie it all together.  
This modern Southwest bathroom featured below incorporates a statement shower with pink plaster walls, nodding to elements of clay and terra cotta, with a patterned rug similar to traditional Southwest textiles. 
Global Design Trend #4: Mediterranean
A style inspired by the countries bordering the Mediterranean Sea like Greece, Ibiza, and Tunisia, this design incorporates elements of coastal living. Key features of Mediterranean design include bold colors balanced with neutral tones, natural fibers, and creating a seamless experience between outdoor and indoor spaces through open floor plans and large windows.  
Mediterranean style shares similar motifs with Southwest style through tile work and patterned textiles. But instead of using warm colors and dark wood grain, Mediterranean style focuses on creating bright, airy spaces reminiscent of being on the beach, and uses tilework and textiles as accent pieces. Here is a great example of a classic Mediterranean style bathroom. 
If you're interested in incorporating elements of Mediterranean style into your bathroom design, keep your space bright, and use decorations sparingly. Add touches of blue and teal to create the feeling of the ocean, and choose between a Moroccan rug or Mediterranean tiles to add some visual interest to your space. If you are looking for a place to store fresh towels, consider getting a large wicker basket to tie the space together without compromising on functionality.  
Create Your Globally-inspired Masterpiece with Re-Bath!
Designing your own bathroom from scratch can be overwhelming. With Re-Bath, you can work directly with a Design Consultant to create the bathroom of your dreams, without doing any of the heavy lifting.  
Global bathroom trends can inform and inspire your bathroom design in many ways. Feeling inspired by the Japanese Wabi-Sabi design? Re-Bath's Contemporary design focuses on clean lines, muted color palettes, and natural stone wall surrounds to perfectly complement this style. Are you more drawn to the Southwest design? Re-Bath's Rustic remodels feature dark wood grain and warm-toned stone to match this style. 
Ready to go global in your bathroom? Re-Bath will take you from start to stunning in as little as one week. Connect with a Design Consultant to get started today!